August 1999
Feisty Victor Mature was a fighter to the end
(This article has been edited a bit.)
Screen legend dies rich and in love at age 86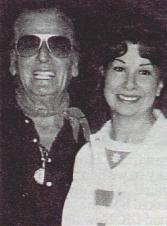 With the same courage as the heroes he portrayed on-screen, movie legend Victor Mature bravely battled cancer right to the very last moment.
Sadly he lost his three-year fight on August 4. The brawny Samson and Delilah star died a wealthy and happy man at the age of 86.
His beloved wife of 25 years, Lorey, and daughter Victoria, 24, both were at his side when he passed away peacefully at his home in Rancho Santa Fe, California.
Handsome Victor and his beautiful wife Lorey.
They were both with him throughout his illness, holding his hand and kissing away the pain.
Mature was famous for his rippling muscles and sexy, hooded eyes. And his roles in films like 1949's Samson and Delilah and as Doc Holliday in the western My Darling Clementine exploited his masculine allure.
But by the 1960s Mature retired from show business and the glitz of Hollywood.
"Victor was a humble, modest guy," says a pal. "He made smart investments in real estate and retail stores and didn't have to work."
The retired star spent his time playing golf, and "his best friend was Jim Backus, better knows as Mr. Magoo," the friend reveals.
"They were inseparable. When Jim died in 1989, Victor was devastated. Fortunately, Lorey was there for him."
Although he made a brief return to acting to play Samson's father in a 1984 TV remake of the film classic, Mature often poked fun at his talent and success.
"I'm no actor," he joked, "and I've made 64 movies to prove it."