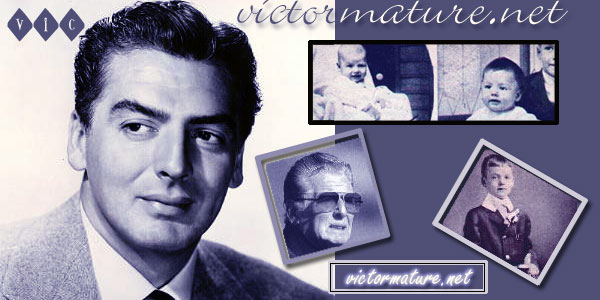 Special Thanks to Mervyn Graham for this wonderful drawing of Victor that was done by his father. You can contact Mr. Graham at: Mervyn Graham
Here is information from Mervyn Graham about this wonderful drawing.
My dad, the artist.............. Mathew (Pool) Graham, Matt to his friends, was a giant of a man. At 6ft 7in and 290 lbs. in weight, people knew when he walked in the room. Although a fine artist at an early age, he was never to pursue art as a career. He was a sailor, a truck driver and a transport manager, to mention just a few of his jobs.
I remember Dad sitting and drawing with pen and India ink for hours at a time. His work included actors of the day with Victor Mature being one of his favorite male actors.
The work he produced was nothing short of wonderful.

Copyright © www.victormature.net The Victor Mature Fan Club and Website - Mature's Matinee - All rights reserved. Please do not use any of the images or information from this site on any other websites or pages.