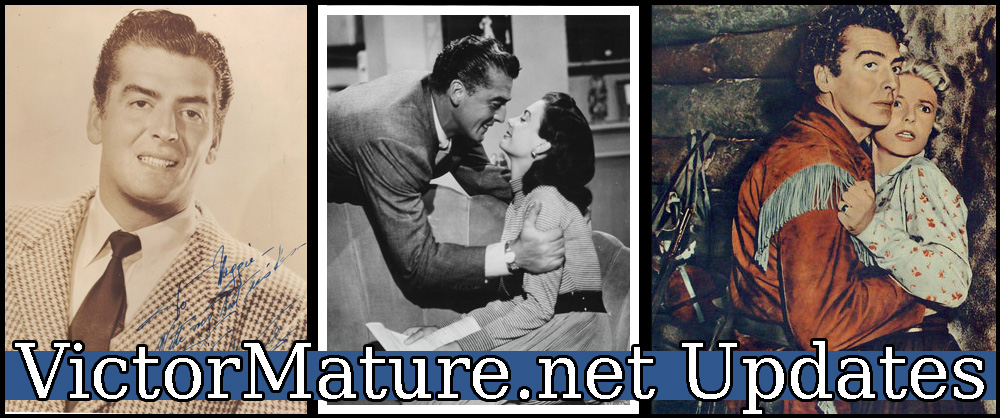 2014
February 2014 - The site has been updated with all of the photos and information from April 2013 through December 2013. Make sure to check out this page or the Facebook feed on the main page frequently for all of the updates in 2014.
June 22, 2014 - To help us celebrate the 15 year anniversary of The Victor Mature Fan Club,Victor's beautiful and talented co-star in "Kiss of Death" and "Fury At Furnace Creek" - the multi-talented star of stage, screen, television and more - Coleen Gray has shared this cute story of working with Victor with us! Thank you so much to Coleen Gray for her kind generosity and for sharing this wonderful story and photos with us! It's truly an honor! Read the story and view fantastic pictures of Victor and Coleen here: http://www.victormature.net/coleengraystory.htm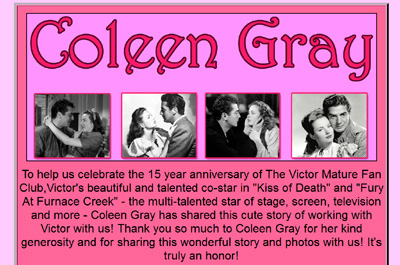 Copyright © www.victormature.net The Victor Mature Fan Club and Website - Mature's Matinee - All rights reserved. Please do not use any of the images or information from this site on any other websites or pages.